i-KAIO I Turnkey ion generator
A unique powerful tool for ion generation and "on-target" laser monitoring

Plug and play ion generator EProton= 4 – 5 MeV (cut-off)
Highly compact and automated
Laser referencing (from factory to laboratory)
Control of contrast, divergence, duration via ion generation
Highly compact and automated
Perfect to train students and non-expert staff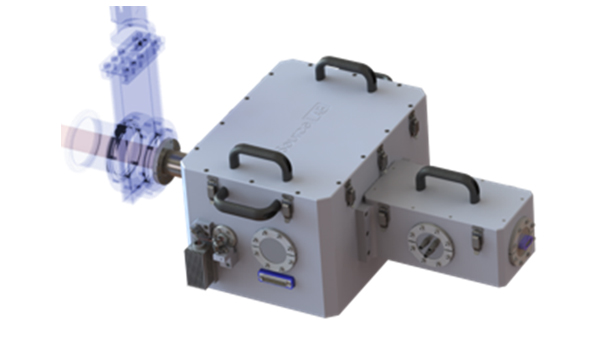 i-KAIO system, including the detector module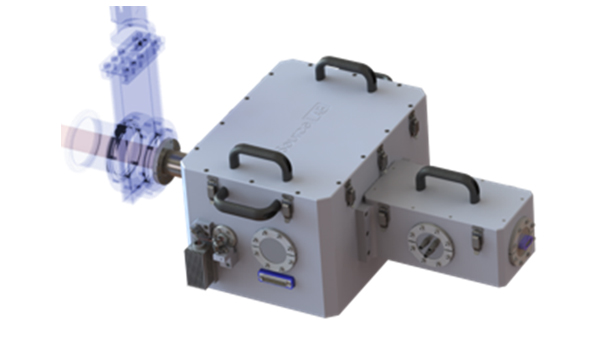 i-KAIO system, including the detector module
Plug and play ion generator EProton= 4 – 5 MeV (cut-off)
Highly compact and automated
Laser referencing (from factory to laboratory)
Control of contrast, divergence, duration via ion generation
Highly compact and automated
Perfect to train students and non-expert staff
Users of intense lasers rely on several methods and devices to characterize a laser short pulse before the experiments.
However, even if all these methods and devices are implemented, it is still very difficult to assess the suitability of the pulse characteristics for the interaction with a plasma since:
the laser pulse must be prepared / transformed for the characterization
the characterization is made before the interaction chamber
the devices have limited precisions
the interplay between each pulse characteristic and the plasma is not fully clarified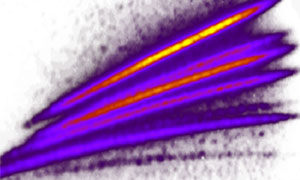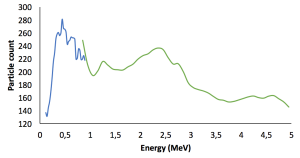 Calibrated ion spectrum obtained with SL-KAIO (C+: blue, Proton: green)
TNSA: a mechanism sensitive to energy, duration, and spot size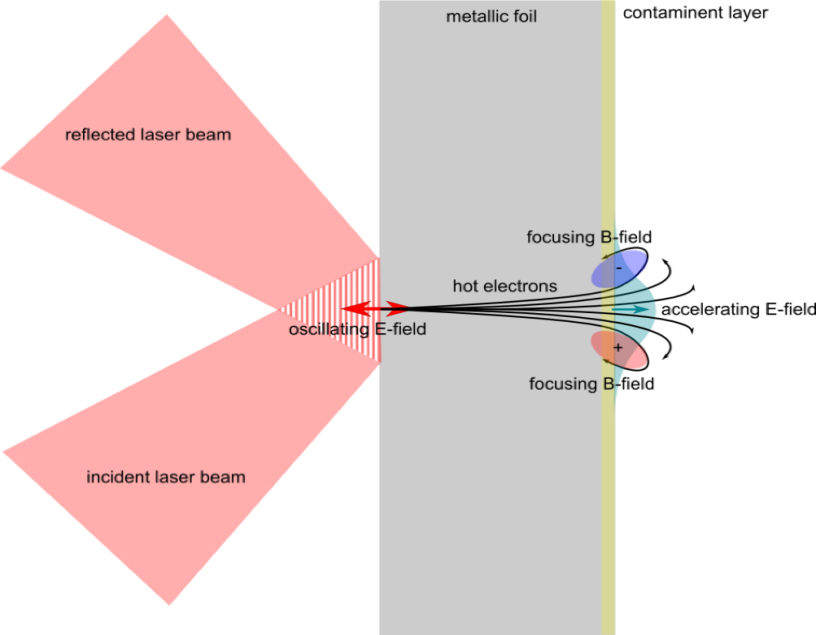 Acceleration of ions from a contaminant layer by TNSA mechanism, mediated by  hot electrons from laser-thin foil interaction
TNSA is very sensitive to the laser intensity (hence to energy, duration, waist, contrast) onto the thin foil. Proton acceleration by TNSA  is an excellent candidate to assess if a laser should be used for interaction.
SourceLAB developed a new versatile device, KAIO, based on TNSA protons, that gives unambiguous and quantitative indications on the suitability of a pulse for the interaction with a plasma, and how to improve it.
Beyond assessing the suitability of a laser pulse to laser plasma interaction experiments, KAIO is a unique laser ion accelerator that delivers beams that gives access to applications such as proton radiography, Proton Induced X-ray Emission (PIXE), biological dosimetry.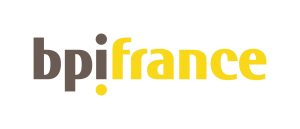 Dimensions: 274 x 440 x 330 mm3 (H x L x l)
Mass:~ 30kg
Input feedthrough: ISO-KF 50
Repetition Rate: Up to 1 Hz
Proton cutoff energy: Max 5 MeV @1J laser energy
Proton number: ~109 cumulated over the spectrum
Foil material/thickness: Typ. Al, Ti, Ni / from 0.4 to 10s of micron
Trigger: Yes (TTL signal from laser master clock)
Autonomy: 200 shots (more on request)
Turnover time : 20 min
Vacuum turbo pump: Supplied in the core offer (10-5 mbar nominal)
Detector module: Thompson parabola (E + B field) coupled with MCP chevron Injector pinhole : from 100µm diameter, 1mm thick
Laser pulse duration: Typ. femtosecond duration range (λ0~700nm-1000nm)
Laser energy: From 100mJ to 1J after compressor
Laser aperture: < 47 mm
Radiation safety: Radio-protected encloser (bunker) for particle shielding
Graphic User Interface (GUI):



A unique powerful tool for ion generation and "on-target" laser monitoring


Plug and play ion generator EProton= 4 – 5 MeV (cut-off)

Highly compact and automated

Laser referencing (from factory to laboratory)

Control of contrast, divergence, duration via ion generation

Highly compact and automated

Perfect to train students and non-expert staff

i-KAIO system, including the detector module

i-KAIO system, including the detector module

Plug and play ion generator EProton= 4 – 5 MeV (cut-off)

Highly compact and automated

Laser referencing (from factory to laboratory)

Control of contrast, divergence, duration via ion generation

Highly compact and automated

Perfect to train students and non-expert staff

Users of intense lasers rely on several methods and devices to characterize a laser short pulse before the experiments.

However, even if all these methods and devices are implemented, it is still very difficult to assess the suitability of the pulse characteristics for the interaction with a plasma since:

the laser pulse must be prepared / transformed for the characterization
the characterization is made before the interaction chamber
the devices have limited precisions
the interplay between each pulse characteristic and the plasma is not fully clarified

Calibrated ion spectrum obtained with SL-KAIO (C+: blue, Proton: green)

TNSA: a mechanism sensitive to energy, duration, and spot size


Acceleration of ions from a contaminant layer by TNSA mechanism, mediated by  hot electrons from laser-thin foil interaction

TNSA is very sensitive to the laser intensity (hence to energy, duration, waist, contrast) onto the thin foil. Proton acceleration by TNSA  is an excellent candidate to assess if a laser should be used for interaction.

SourceLAB developed a new versatile device, KAIO, based on TNSA protons, that gives unambiguous and quantitative indications on the suitability of a pulse for the interaction with a plasma, and how to improve it.

Beyond assessing the suitability of a laser pulse to laser plasma interaction experiments, KAIO is a unique laser ion accelerator that delivers beams that gives access to applications such as proton radiography, Proton Induced X-ray Emission (PIXE), biological dosimetry.

Dimensions: 274 x 440 x 330 mm3 (H x L x l)
Mass:~ 30kg
Input feedthrough: ISO-KF 50
Repetition Rate: Up to 1 Hz
Proton cutoff energy: Max 5 MeV @1J laser energy
Proton number: ~109 cumulated over the spectrum

Foil material/thickness: Typ. Al, Ti, Ni / from 0.4 to 10s of micron
Trigger: Yes (TTL signal from laser master clock)
Autonomy: 200 shots (more on request)
Turnover time : 20 min
Vacuum turbo pump: Supplied in the core offer (10-5 mbar nominal)
Detector module: Thompson parabola (E + B field) coupled with MCP chevron Injector pinhole : from 100µm diameter, 1mm thick

Laser pulse duration: Typ. femtosecond duration range (λ0~700nm-1000nm)
Laser energy: From 100mJ to 1J after compressor
Laser aperture: < 47 mm
Radiation safety: Radio-protected encloser (bunker) for particle shielding

Graphic User Interface (GUI):